It's now the last day of January are you feeling liberated?
The month for decluttering our minds, goal boards, mood boards or just plain cupboards have you made a start?  I gave up on News Years Resolutions some years back.  But I do love January for a good sort out, even though he indoors always proclaims "I've no idea how you were once somebody's PA" .The filing does eventually get sorted.
What is looking good is my Beauty Room, and my Tropic trolley. Now this isn't any ole trolley it big, its cream and its gorgeous.  Its bloody fabulous!!!!!! I'm now an official Tropic trolley dolly. A December incentive from Tropic which I was far from achieving 24 hours before the deadline. But it's amazing what can be done when you focus the mind the magic happens.  Not only did I achieve the trolley, a rather bright clothes carrier and and makeup bag too.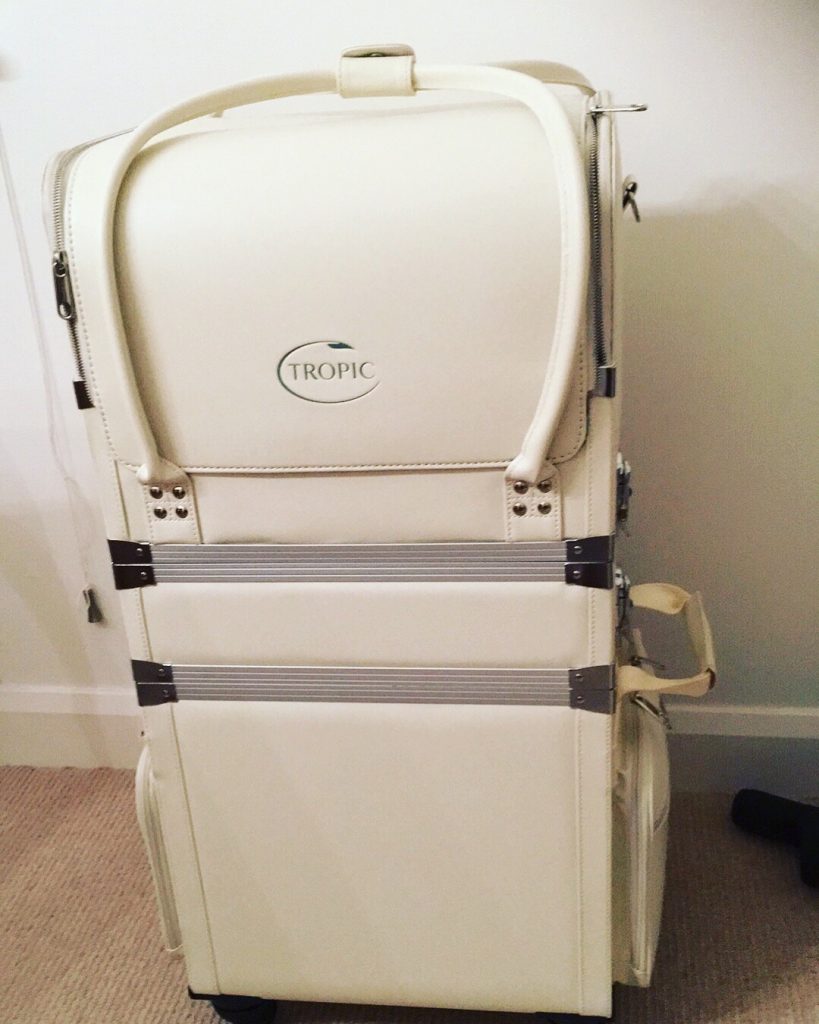 This last week London was on the agenda.  Packed with seeing family, friends and courses.  A bit of a rude awakening was getting up at 6am to head off on the tube with hundreds of other commuters all squashed in like sardines.  A seat you could forget that.  So standing for a hour wedged against a woman with a huge hairy hood this was me.  The art of no eye contact is in place and everyone is buried in their phones, books or papers. Then there's the sniffing, the coughing.  Oh boy that flu bug!  The relief when the doors open on my stop and a dash for a taxi.  A battle round the North Circular on a journey that should take ten mins for 2 miles…….. half an hour.  Thankfully I don't do this very often.  Working for myself has many benefits, one 6 o'clock in a day is enough for me!!
Next stop will be the road to, drum roll………The Glammies.
March is an exciting month. Definitely this time with my car.  There will be lots of awards,  a very decadent setting all around the theme "Fly Tropic Airways" . If anyone knows me flying has played a big part in my family, and dreaming big.
Can't wait to take off with girls for this trip!! Should make for interesting outfits, we usually dress to impress.  Oh and Lord Sugar makes an appearance too along with Susie Ma.  We also get to find out the launch of their Spring Collection of new products too.  Exciting!
One day left of our January Joining Offer
Would you like to come onboard? Get ready to join us and spread your wings.  We will help you to fly.  Its a fabulous opportunity to try something new.
A new hobby? A new career?
On the menu award winning products. All lovingly packaged freshly made here in the UK.
Could help with destination holiday, or pay a few bills.
But most of its a journey about having fun.
We offer flexi tickets to suit you.  Be it short haul or long its totally upto you.
All that is needed is to purchase that ticket.
There's a free upgrade too to the tune of £280
But the boarding gate closes at midnight tomorrow. 31st Jan.   After that it reverts back to £140.
What are you waiting for……………… To find out more – Tel 07884455910.